INTERNATIONAL CLOWNE POST OFFICE
Have you ever received happiness in a letter?
I heard it is scarce... happiness...
If you want I'll propose something
If you want, me, Tily,
I'll post the happiness from wherever I will be!!!
Pictures of places I see, with a note, do you want?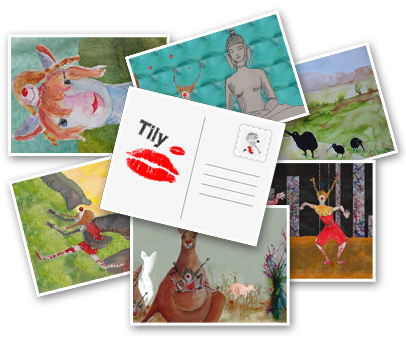 To receive a postcard from each country,
thank you register before December 1, 2011.
I could not be responsible for no receipt of a postcard actually sent and
no refund will be made for any claim.

CAN YOU HELP ME?
I call very high, very strong !!
So listen carefully!


Call for translators
We are looking for people who could translate the content of the Website (French / English).

Call for artists
You are affected and/or interested by my project : you are a musician, designer, photographer, videographer, ... why not create together?

Call for information and contacts
You have contacts, cheap, ... in countries where Tily will go ; you can help Tily organize her trip!

For a donation, you could send a check payable to Amandine Perret at the following address :
Amandine Perret
13 rue Jean-Antoine Guignard
03400 YZEURE
FRANCE